Would you ever to go cooking school? I'm not much of a cook but I do collect cookbooks from different countries that I travel to and love the idea of going on a "cooking holiday" abroad (you know,
Julia Childs-style).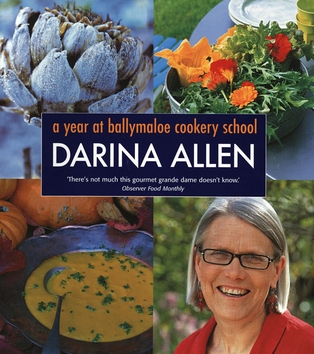 When we moved to Dublin I quickly learned about one of their most famous chef's, Darina Allen. I'm dying to visit her gorgeous organic farm and Cookery School in County Cork, Ireland.
The The New York Times essentially calls her the Alice Waters of the UK/Ireland.
Darina founded the Ballymaloe Cookery School in 1983 and is now the director of the Slow Food movement in Ireland. Obviously she has
come up with tons of fabulous Irish recipes (she has 16 cookbooks) but I'm thinking her famous soda bread recipe would be especially appropriate for this week!
In honor of St. Paddy's Day next weekend I'm excited to say that we'll have three posts with Irish themes this week! Stay tuned for a guide to Dublin and the Drink of the Month later this week.
PS.
Darina's daughter Rachel is also a fabulous chef, check out her
drool-inducing home kitchen.
Also, Gourmet.com's World's Best Cooking Schools!
(images from gourmet.com , ralphlauren.com)