I loved seeing both of the Best Supporting Actor awards presented. Octavia Spencer had me tearing up when she won for her fabulous performance in The Help. Then Christopher Plummer got Best Supporting Actor for his role in Beginners at age 82, the oldest ever to receive the award. If you haven't seen
Beginners
yet, I'd highly recommend it, one of my favorite movies I've seen as of late.
Who did you think was best dressed? I loved Jessica Chastain's look, her hair is so gorgeous.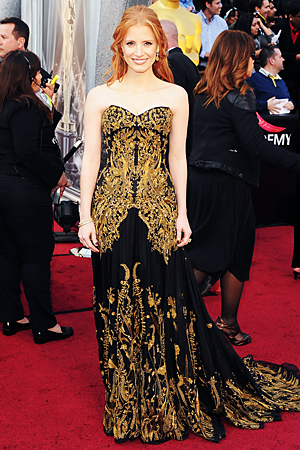 Gwyneth also looked amazing! It was cute hearing her talk about getting ready with Cameron Diaz in her red carpet interview.
Loved the color of Viola Davis' dress
How adorable is Best Actor winner Jean Dujardin?
This was a funny moment
between Emma Stone and Jonah Hill, plus Brad and Angie are looking fabulous as always in the fore-screen.
(both gif images from paralysedbeaver.tumblr.com)
(Top image from ihave4catz.tumblr.com/)