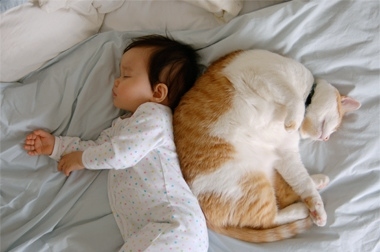 So we're entering the home stretch -- baby is due less than five weeks from now! The nursery is about 60% done (which feels great) and the only big decision left to make is where baby boy will sleep when he comes home from the hospital (oh, and choosing a name, LOL).
At first I thought he could sleep in a little
Moses basket
on the floor next to the bed or in a
rocking stand
. The thing is, they are all so expensive and temporary because he'll only be in our room for the first few months. Also, I've been reading
this book
and it has some interesting ideas about the benefits of having the baby sleep really near his parents. So, after some careful thought and research, we're considering having our little guy sleep in this
little "nest"
on the bed itself. Him sleeping with us is appealing to me for a lot of reasons: we have a king size bed that is plenty big enough for an infant, we're both light sleepers and I wouldn't worry about anyone rolling onto the baby (especially since he'll be in his "nest" near our heads), and it just seems so much easier to feed/soothe him in the night if he's already in bed with us. I'll let you know what we decide-- might end up investing in a bassinet in the end if he doesn't like the nest or we're too crowded.
How did you (or do you plan to) have your baby sleep when he or she was a newborn?
PS.
More info
on bed sharing safely and
one family's story
of extreme bed sharing (with the whole family, eek!).
(
image
)