So, theres' a movie coming out this weekend that some people are pretty excited about.
Teresa and I might just have tickets for opening night...
Anyway, here's a conglomeration of all things Hunger Games, to get you in the spirit.
Check out photos of the Premiere here
.
You can
watch the trailers here
. Or re-watch them, as would be the case for many of us...Get your own
Mockingjay pin, necklace, bracelet, iPhone case, t-shirt, bracelet, bag, earrings, etc. all available on Etsy
. I could actually see myself wearing this
Mockingjay and arrow bracelet
.
A ton of people have created
maps of Panem
, they are all vastly different. Lets just say, it looks like some people did their research, some did not and some chose to use crayons.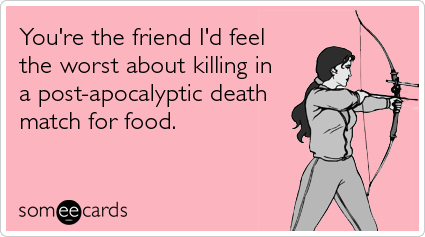 "May the odds be ever in your favor"
Unofficial HG cookbook
HG inspired pencil set
Hob shopping bag DIY
.
Capitol Culture
The New York Sports Club is offering the
"Train Like a Tribute" Hunger Games Workout
, plastic bows and simulated tree climbing included.
Meet the Tributes
, see photos of the actors playing tributes from other districts and descriptions of their characters. WARNING: don't click if you haven't read the books yet. Spoilers involved.
A couple of pastors even created a
Hunger Games Bible study
.
(Photos via
Seattle Times
and
Pop Sugar
)